If you're looking for a way to get your restaurant business off the ground, this unique eatery in Bangkok, Thailand is proof that having a team of hot male waiters dress in skimpy female garb and scream like damsels in distress as they serve patrons is a sure way to success.
Staneemeehoi (Shell Station) is one of many seafood restaurants in Bangkok. As the name suggests, it specializes in shellfish, and judging by the hundreds of reviews on TripAdvisor and Facebook, the dishes and dips served here are above average, but that's not really what has people coming back. Staneemeehoi is famous for its unique service. It employs a team of muscular young men who wear skimpy female clothing and try their best to act girly as they serve and entertain customers. That includes imitating a girly scream, dancing provocatively and puckering their lips as they pose for pictures.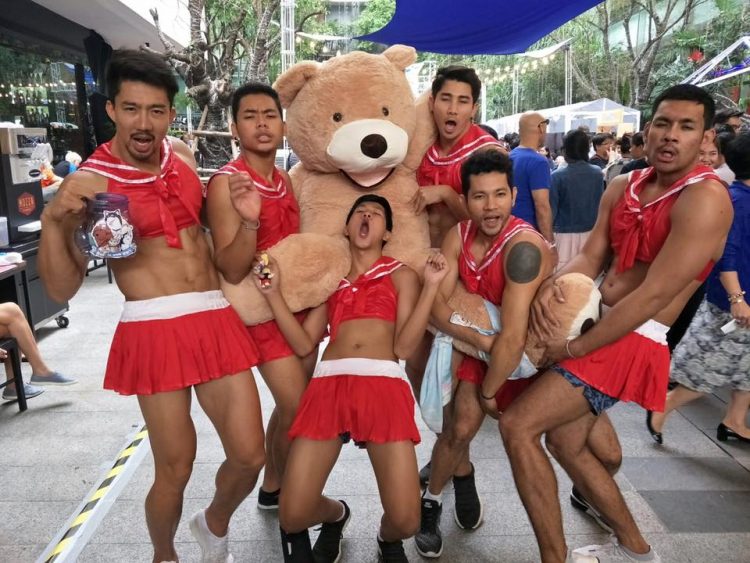 34-year-old Veerasak Maesa is both the owner of Staneemeehoi and the leader of its now famous waiting staff. He used to work as a male model, but as he got older he started thinking about opening his own business. His first idea was to open a cafe, but eventually decided that having to buy all the necessary equipment, like espresso machines, was too much of a hassle. Then, one day, while eating shellfish at a restaurant in Bangkok, he realized that cooking shellfish only required some pots and a stove, so even though he didn't really know anything about running a restaurant, or cooking shellfish, for that matter, he decided to give it a try.
Veerasak claims that he learned most of the things required to run Staneemeehoi online. He found the owner of the pond he buys most of his shellfish on Google, and spent about a month researching recipes. The young manager admits that getting the dishes and sauces just right was difficult at first, but thanks to one of his friends' mother, who happened to be a great cook, everything worked out in the end.There are many great shellfish restaurants in Bangkoj, and Veerasak knew that no matter how good his food was, he still needed a great selling point to stand out from the competition. So he called some of his friends and asked them if they were willing to partner up with him and form an offbeat waiting team whose main purpose would be to make people laugh. After some brainstorming, they decided that the best way to do that was to act all girly and put on skimpy women's costumes that still emphasized their muscular physiques.Veerasak Maesa said that he is aware of rumors about he and his team's routine being called sexist, but he claims nothing could be further from the truth. He claims it's just harmless entertainment and that his customers are the only judges that matter. Considering that Staneemeehoi is packed virtually every evening, with most patrons coming to get a good laugh rather than eat shellfish, I guess they agree with him or they simply don't care.
Asked why he continues to perform himself instead of focusing on the managerial work, the 34-year-old owner said that he simply enjoys it. Plus, if he were to hire another model to take his place, he would have no guarantee that that person wouldn't just quit at some point, leaving him without his main selling point.So, if you're ever in Bangkok and looking for dinner and a show, there's no place quite like Staneemeehoi. Whether you like the whole manly but girly waiting routine or not, you have to admit it's unique